Curb Appeal
Everyone wants to make a good first impression, and a thoughtfully designed, professionally installed and well-maintained landscape can do that for your home. The right landscaping in the front of your house can make your house stand out from others, add value to your house, and welcome your guests.
For over 20 years, Budding Branch Landscape & Design has been adding curb appeal to some of the finest homes in Howard County, Maryland and the surrounding areas, including Baltimore, Carroll, Frederick, and Montgomery counties. From sidewalks, plants, driveways and lighting to front stoops, porticos, and courtyards, we can help make your house the one people want to see.
Front Walkways
Budding Branch Landscape & Design can install a front walkway that will be both functional, aesthetically pleasing and welcoming to guests. The hardscape design will fit the style and scale of the house, take into consideration drainage around the sidewalk including re-directing water from downspouts away from the house, and incorporating access for lighting, irrigation, or other projects.
The material you choose for your walkway is an important design element and will determine the look and feel of the final project. Our extensive hardscape experience means we can build walkways of varying styles in many materials such as natural stone, patterned concrete, and pavers. We'll walk you through the benefits of various materials, illustrate how your choice affects design and budget, and help you make the right choice to best enhance the curb appeal of your home.
Landscape Plantings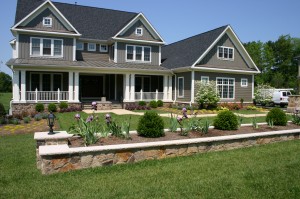 Budding Branch Landscape & Design can help enhance the curb appeal of your house with the right planting design, installation, and maintenance. The size, seasonal color, and texture of the plants are all important when designing your front landscape. In addition to design considerations, we help you choose the right plants based on the sun exposure of your property, soil conditions, hardiness of the plant and deer resistance if that's an issue in your neighborhood. Once we decide on the design, we hand select the plants to make sure we have healthiest and most attractive plants available. We prepare the soil as needed for planting and edge and mulch the beds for plant health and a well-manicured look.  Another important consideration is the maintenance of the plants and planting beds after they're installed. Whether you're a master gardener or don't want to do it yourself, we can design the landscape that fits your gardening style, and we offer seasonal maintenance which includes pruning, weeding, edging, fertilizing, and mulching to keep your landscape looking beautiful for years to come.
Landscape Lighting
Budding Branch Landscape & Design can design and install low-voltage landscape lighting to enhance the curb appeal of your home at night. Path lights along the sidewalk, lighting on specimen plants or features such as fountains, up lights on trees and shrubs, and diffused lights on the home's facade allow all the elements of your landscape to be appreciated at night.
Courtyards, Porticos, Porches
Courtyards, porticos, and porches can add architectural appeal and protection from the elements while providing a welcoming space for guests. Imagine friends arriving for a party and gathering around integrated sitting walls or areas with bench seating and enjoying the sound and atmosphere of a fountain. Or picture yourself relaxing in a rocking chair on the front porch while you watch your children playing with neighborhood friends out front. Budding Branch can design and install these hardscape features and other architectural elements to enhance your home's function and curb appeal.
Driveways
Have you ever visited a home and there was nowhere to park or turn around or the driveway is the dominant feature of the house? Not only does your driveway provide functional access to your home, but it contributes your guests' first impression of your home. Budding Branch Landscape & Design can design and install a driveway that not only takes into account functional aspects such as placement, width, layout, parking, and drainage, but also the aesthetic aspects. We'll help you choose from materials such as gravel, concrete, asphalt, or pavers and optimize the driveway layout based on your home's architectural style and the surrounding landscape.  Strategically placed plants can soften the look of the hard surface of a driveway and direct your guests to the front entrance. We can further amplify the design factor with the addition of borders, aprons, culvert bridges, stone entry pillars, lighting, and gates.
Contact us or call (410) 442-8208 today, and let Budding Branch Landscape & Design help you perfect "the art of outdoor living"!  We serve Howard County, Carroll County, Baltimore County, Frederick County, Anne Arundel County as well as Clarksville, Ellicott City, Glenwood, Glenelg, Cooksville, Fulton, Olney & Brookville.