Outdoor Cooking Spaces
Custom Grilling Stations and Outdoor Kitchens
Just as the kitchen is the heart of the home, and friends and family always end up gathering there, the best moments we spend in our back yards usually revolve around cooking and eating with friends and family.   Whether you need a patio or deck to put your traditional charcoal or gas grill, you'd like a custom-built grill station, or you're dreaming of a full-scale outdoor kitchen worthy of a master chef, Budding Branch Landscape & Design can create a space that is as attractive as it is functional.
Bar Top Seating, Covered Dining, and Other Outdoor Cooking Options
We'll meet with you to discuss your wants and needs for the cooking area as well as aesthetic preferences for materials and design. In addition to the grill and options like sinks and refrigerators, we can incorporate bar top seating, space for a dining table, covered areas, lighting and more. We can further customize your outdoor cooking space with options such as pizza ovens, smokers, wood-burning grill pits, and, the owner Rob's personal favorite, a dedicated space for a crab steamer.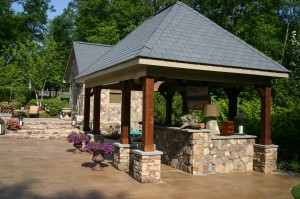 For more than 20 years, owner Rob Boswell and professional landscape designer Heath Skelton have been customizing outdoor kitchens for clients throughout Howard County, Maryland and the surrounding areas, including Baltimore, Carroll, Frederick, and Montgomery counties. An outdoor kitchen is a great way to improve the value of your home with an investment you'll actually use all year long. We will coordinate the entire process, from pulling permits to connecting the essential utilities. Budding Branch owner Rob Boswell manages every project, ensuring our employees and tradesmen meet our rigorous standards for customer protection.
Contact us or call (410) 442-8208 today, and let Budding Branch Landscape & Design help you perfect "the art of outdoor living"!  We serve Howard County, Carroll County, Baltimore County, Frederick County, Anne Arundel County as well as Clarksville, Ellicott City, Glenwood, Glenelg, Cooksville, Fulton, Olney & Brookville.