Outdoor Living Spaces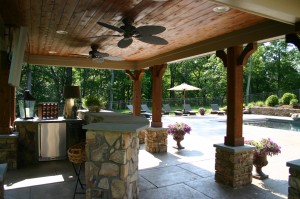 Are you dreaming of a place to soak up the sun, relax in the shade, dine with family and friends, enjoy the sights and sounds of nature or host an outdoor party? A deck, pergola, gazebo, pavilion, screened porch or three season room is just the place for whatever outdoor living you have in mind.
When you construct a deck, pergola, gazebo, pavilion, screened porch or three season room, it's more than an enjoyable outdoor space, it's a significant improvement to your home. Don't trust just any contractor to construct such an important addition to your property. In our 20-plus years of building outdoor spaces, Budding Branch Landscape & Design has consistently earned the trust of our customers through our commitment to quality, transparency, and customer protection. We ensure every aspect of the project is handled, from pulling permits to site cleanup. Our tradesmen and employees are held to high standards by owner Rob Boswell, who personally oversees each job we undertake.
Professional landscape designer Heath Skelton will create a completely custom deck, pergola, gazebo, pavilion, screened porch, or 3-season room that complements your home's design while providing an ideal outdoor space for your family and friends. Budding Branch Landscape & Design has built countless unique designs for clients throughout Howard County, Maryland and the surrounding areas, including Baltimore, Carroll, Frederick, and Montgomery counties.
Design & Construction of Outdoor Living Spaces
The desired function of the space and the style of the home and surrounding landscape help determine the size, shape and type of outdoor living space. Whether you plan to have small family get-togethers or host larger parties, we can design the ideal space for your needs. You may want an open deck or a more intimate space with a pergola, or you may want more protection from the elements and/or insects with a gazebo, pavilion, screened porch or 3-season room. We'll help you design space for grilling, dining, and seating and can even incorporate special elements such as hot tubs, fireplaces, TV's, and sound systems into the design.
Materials for deck, pergola, gazebo, pavilion, screened porch and 3-season room construction have come a long way in recent decades, with vinyl and composite materials offering new options for design and color. A wide range of unique hardwoods are also available, for a more natural look that still offers low-maintenance and durability.
Vinyl, PVC, or composite materials are among the most durable, weather-resistant, and easy-to-care-for materials available. Manufacturers like Azek, Trex, and Timber Tech offer a wide range of colors and textures, which allows for more creativity in the design of the structure. These materials are often made from recycled goods, making them a more environmentally-friendly option in some instances.
If you prefer the look of natural wood, there are many options that are also low-maintenance and long-lasting. Pressure treated lumber is among the most affordable deck construction material. Soft woods that offer natural weather and pest resistance include cedar and redwood. More exotic hardwoods like Ipe are extremely durable.
There are many railing options to complement any style. Wooden railing can be simple straight pickets to more elaborate turned spindles or can be laid out in geometric patterns. Other materials include vinyl, PVC, and aluminum railings which come in different colors and may require less maintenance. For a less obstructed view, glass panels and wire are good choices. Adding decorative post caps, complementary color choices, and lighting are some design elements that can make your space more unique.
Lighting is an important consideration in an outdoor living space. Accent lighting on railings and stairs, decorative lanterns and sconces, recessed lighting, ceiling fans, receptacles for decorative string lights, and flood lights make outdoor living spaces functional and provide an inviting ambiance.
Contact us or call (410) 442-8208 today, and let Budding Branch Landscape & Design help you perfect "the art of outdoor living"!  We serve Howard County, Carroll County, Baltimore County, Frederick County, Anne Arundel County as well as Clarksville, Ellicott City, Glenwood, Glenelg, Cooksville, Fulton, Olney & Brookville.