Patio Spaces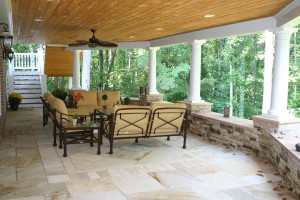 When a patio design is carefully crafted to suit your needs and work cohesively within the landscape, it very often becomes your family's favorite place to gather. For over 20 years, Budding Branch Landscape & Design has designed and built some of the finest patios in Howard County, Maryland and the surrounding areas, including Baltimore, Carroll, Frederick and Montgomery counties. From elaborate, multi-level patios constructed with natural stone, to a simple, economical space for meals and entertaining, we can create the perfect patio for your outdoor space. In addition to patio design and construction, we offer stonework and hardscape construction for a full scope of landscape elements to complement a patio space such as retaining and sitting walls, pergolas, outdoor cooking areas and walkways.
Patio Design & Construction
When Budding Branch Landscape & Design designs and constructs your patio, we consider the scale and style of the house and the surrounding landscape, the desired function, and the location. We can take previously unused or unusable space such as that under a deck or on a slope, and turn it into a functional patio. It's also important to plan for access to utilities for other elements that could be included in the design. Some of those elements include pergolas, fireplaces and fire pits, sitting walls, grill stations, and lighting to name a few. The owner, Rob Boswell, oversees and coordinates the job and ensures our employees and tradesmen uphold our standards for quality and professionalism. Our commitment to customer protection means we offer you honest advice, we pay attention to the details, and we work to ensure your satisfaction with the process as well as the finished project.
Patio Construction Materials
Patio Construction Materials
The material you choose for your patio is an important design element of a patio and will determine the look and feel of the final project. We'll walk you through the benefits of various materials, illustrate how your choice affects design and budget, and help you make the right choice.
Concrete- A concrete patio doesn't have to be boring. A stone or brick border can be added for more interest, and other creative options include exposed aggregate, colored concrete, and patterned concrete.
Patio Pavers – The variety of shapes, colors, and textures of patio pavers available make them a versatile choice of materials for construction.
Natural Stone – When the simple elegance of the real thing is an absolute must, we can build a natural stone patio. Pennsylvania fieldstone, limestone, and travertine are some of the many natural stone options. Stone comes in many shapes, styles, colors and textures. It can be laid in irregular or geometric patterns and in combination with other materials.
Brick – For a classic, Old World design, brick is an excellent option. Brick also comes in many textures and colors and can complement the existing brick on the house or be used as an accent with other materials. It can be dry laid or laid in concrete in a variety of patterns.
Sitting Walls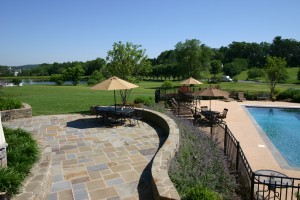 Either as a functional wall for support or as a decorative element, retaining walls and sitting walls can add a new layer to a landscape design. When installed around a patio, fireplace or fire pit, or swimming pool, stone walls can add seating and define a space, creating an inviting spot for relaxing or entertaining.
Contact us or call (410) 442-8208 today, and let Budding Branch Landscape & Design help you perfect "the art of outdoor living"!  We serve Howard County, Carroll County, Baltimore County, Frederick County, Anne Arundel County as well as Clarksville, Ellicott City, Glenwood, Glenelg, Cooksville, Fulton, Olney & Brookville.